License Suspension Attorney Vancouver WA
The Department of Licensing will move to suspend your license if you are charged with a DUI in Washington. The process begins the night of your arrest. Typically the police officer faxes a suspension notice and police report to the Department of Licensing. The officer will also hand you a notice of the suspension. This form notifies you that you only have 20 days to challenge the suspension. This administrative action to suspend your license is different than your criminal case.
If you challenge the suspension, you are entitled to a hearing. This hearing is done over the telephone and costs $375. At the hearing, the Department of Licensing will determine whether your case warrants a license suspension. Your license will be suspended if there is enough evidence showing that you drove in Washington and either:
Contact Us Now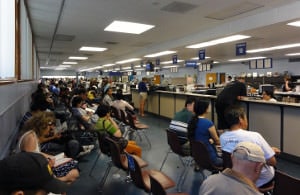 If You Have Been Charged With A DUI In Clark County or Vancouver WA, Time Is Of The Essence!
Call Our Office To Speak With Attorney Roger Priest Immediately.
(360) 281-7314
DUI License Suspension Duration
If you either don't request a hearing or lose the hearing, your license can be suspended for either 90 days or 1 year, depending on the circumstances of your DUI case.  When you arrested and charged with a DUI, you will be provided a notice of license suspension by the police officer.  You can use this form to request a DUI license suspension hearing and mail it in with the $375 fee.  You can also visit the Department of Licensing website and file your request online.  Because you only have 20 days from the date of the arrest, it makes sense to file online and save all the time you can.
License Suspension Hearing Procedure
Once you've requested the hearing, the Department of Licensing will either contact you or your criminal attorney, if you hired one.  You will receive copies of the police reports that are proposed exhibits in the administrative hearing to follow.  You can then prepare your own evidence, subpoena witnesses and prepare briefing for the hearing.  The hearing must be held within 60 days of your arrest.  On the date of the hearing, an administrative law judge will call you or your attorney.  The department of licensing bears the burden of proving that you drove a motor vehicle, that the police officer had a reasonable basis to stop you and to arrest you for DUI, and that your BAC was above a 0.08% (or that you refused the test).  Although that seems simple to accomplish, there are a variety of ways that the hearings can be won if simple mistakes were made.  A dui lawyer can help you decide whether you have a good shot at winning your hearing.
Regardless of the charge, we can help.  Call today to talk directly to Roger Priest and get the answers you need to take control of your case.  We are available to meet right away.  We can offer flexible payment plans.  The consultation is free.  What do you have to lose?  Get the help of a criminal defense attorney today.
Speak With A Lawyer Now.
Free Consultation Available!
We aim to provide unparalleled service, and love to hear back from current and former clients. Check out our business profiles below and feel free to leave a review if you liked working with us. If you ever have questions or concerns about your case or our service, please give us a call. We aim to make sure our clients get the best information and walk away from our legal business with the utmost confidence. No question or concern is too small to call.

I earn my living by earning the trust and respect of my clients. As a prospective client, I hope to show you this first-hand.
Open Hours Mon-Fri, 8am to 5pm