DUI Lawyer in Vancouver WA
Roger Priest is a criminal defense attorney in Vancouver WA with extensive courtroom experience in Washington's DUI laws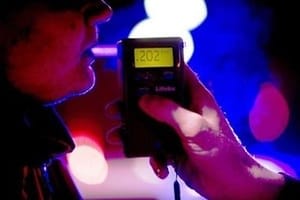 You need an experienced DUI lawyer when facing a Washington DUI.  In DUI defense, not just any attorney will do.  Roger Priest is a Vancouver WA DUI attorney practice with years of experience handling hundreds of cases.  If you are facing a drunk driving charge in or around Vancouver, Washington, call today for a free DUI lawyer consultation.
DUI law is complicated.  A typical DUI case may require expert witnesses, scientific evidence, and involve laws that are ever changing.  The best DUI lawyer must be a good trial attorney and detail-oriented.  DUI cases are won and lost in the details.  A good DUI defense is not always obvious to the layperson, it pays to get the help of an experienced DUI attorney early in your case.
Experience Counts When Dealing With A DUI
Roger Priest has been working as a DUI attorney for several years and has handled hundreds upon hundreds of DUI cases.  He has won dozens of DUI trials, so he knows how to build a strong DUI defense case.  Roger Priest is also a strong negotiator and can get good results without the stress of a DUI trial.  In either case, Roger Priest is the type of DUI lawyer who can help you minimize the damage of a DUI charge in Vancouver WA.  Roger Priest has worked as both a prosecutor and DUI defense attorney.  He also knows the local practices of practicing in Vancouver WA, Clark County, and the rest of Southwest Washington.  Knowing the local court system and the various prosecutors can be a tremendous help in negotiating a fair deal for your DUI charge.  If you've been charged with a DUI in Vancouver, Washougal, Camas, Battleground, and another surrounding county, call for the help of an experienced DUI lawyer.
DUI Attorney Services
Roger Priest & staff will help you assess your options when dealing with a DUI charge. We cover the following areas of DUI law in Vancouver:
Understanding Washington DUI Charges
A DUI conviction can be tough.  It may require jail, thousands of dollars in fines and fees, probation, a license suspension, and more.  What's worse is that you often won't know whether you have a winnable case or not without first talking to an experienced DUI attorney.  DUI defense is complicated and often requires attacking police procedures that only a trained legal mind will be familiar with.  Unless you are experienced with proper police procedures in a DUI investigation, you won't know what to look for.  Priest Criminal Defense has been able to get DUI charges dismissed or reduced on many cases where  the client had no idea that the police had messed up.  If you don't talk to an experienced DUI lawyer, you may never know what you're missing.  Here are just a few common DUI case issues:
THE DUI TRAFFIC STOP
Why you get stopped on a DUI case is often the most important question.  Police often make mistakes when stopping a vehicle, which can lead to the case being dismissed on constitutional grounds.  Only an experienced DUI lawyer can help decide whether the police messed up on your case
FIELD SOBRIETY TESTS
How the field sobriety tests are conducted are crucial in determining whether they can be used against you in court.  Hiring a DUI defense attorney can lead to suppression of evidence that might otherwise sink your case.
BEING ARRESTED FOR A DUI
DUI Arrest – At the point that an officer makes an arrest for DUI, there must be probable cause for the crime or any later evidence is inadmissible, including a breath or blood test.  It is therefore an important part of an investigation and may be good grounds to find a strong DUI defense.
BREATH AND BLOOD DUI TESTS
DUI cases are rarely provable without either a scientific test of your breath or blood (or your refusing to provide one).  There are two types of blood tests:  a voluntary blood test or one subject to a search warrant.  The science behind breath and blood testing is complicated, so a strong scientific understanding of the process, science, and laws of such tests is vital.
DUI ARRAIGNMENT
Your first court appearance for DUI is an important part of your DUI case, because it an set the tone for the entire case.  This is where the judge will decide whether you must pay bail, face supervised release monitoring by probation, face conditions of release, and more.  Also, this is where you enter a formal plea to the charge.
DOL HEARINGS
If a DUI breath or blood test shows your BAC was over 0.08% or you refuse a breath test, the Department of Licensing will try to suspend your driver's license.  This administrative procedures is separate from your criminal case, but it can still be vitally important in the defense of your case.
THE DUI DISCOVERY PROCESS
Following arraignment, this is where the real work begins.  This is where the lawyer demands all fo the prosecutor's evidence, conducts witness interviews, gathers independent witnesses and experts, strategize with the client, and prepare the case for possible trial.
THE NEGOTIATIONS PROCESS
Throughout a DUI case, the parties can make offers and counteroffers.  Often, strong negotiation is a product of having a good working relationship with the prosecutor and doing good discovery work.  The best deals are available for DUI attorneys who have the respect of the prosecution and best prepare the case for trial.
THE PRETRIAL MOTIONS PROCESS
Often, DUIs are won or lost in the pretrial motions stage.  This is where knowing the law makes all the difference.  Sometimes, flaws in the police procedures can lead to suppression of evidence or dismissal of the case.  This can make a seemingly bad DUI case is possible winner.  Not only can this help negotiation but it could mean an acquittal at trial.
THE TRIAL
This is where litigators make their name.  A strong trial attorney can make a bad case better and a good case great.  Although having a good trial attorney doesn't insure you'll win, the better the litigator the better your chances.
THE APPEALS PROCESS
Sometimes cases are lost at trial, but there are good reasons to continue fighting.  Trial courts often make mistakes that can be reversed by a higher court.  Not only will this give you the fair trial you deserve, but it can give you a second chance at trial if you win your appeal.
VanWa Legal Is Here To Help
Based in downtown Vancouver WA, we handle DUI charges throughout Clark County, Washington and the surrounding counties.  Call for a consultation if you are facing a DUI charge in any of the following counties or municipalities:
Vancouver, Washington
Clark County, Washington
Camas, Washington
Washougal, Washington
Ridgefield, Washington
Woodland, Washington
Cowlitz County, Washington
Skamania County, Washington
Stevenson, Washington
Lewis County, Washington
Klickitat County, Washington
Wahkiakum County, Washington
Flat Fee Payment Plans
We offer affordable flat fee pricing on DUI charges and allow for payment plans in many cases.  A DUI lawyer is available for a free consultation seven days a week, so it is easy to enlist the help of an experienced attorney to assist you in your case.  There are never any hidden costs in our fees, so what we quote you is what you pay, regardless of how many court hearings or work is involved to get you the best result in your case.