Car Accident Attorney Vancouver WA
A car accident can end your life.  If it does not, it can also change everything about the life you have afterward.  A car crash can take your health.  It can take your job.  It can take your joy.  A car accident attorney can help you earn the maximum fair compensation for your motor vehicle injury claim.  No amount of money can ever replace your health or joy, but it can make dealing with your new life easier.  Attorney Roger Priest can help you make sure that, at the least, your personal injury claim is taken seriously and fairly compensated.  Car accident litigation is unique and very few people understand how it all works.  The best personal injury attorneys can help you understand your rights and options if you've been injured in a car accident.  They can explain the process.  They can help you seek out the best treatment and help you secure payment for it.  A car accident lawyer can help you gather evidence and present it in a strong demand to the insurance company so that you can hopefully settle both fairly and quickly.
Contact Us Now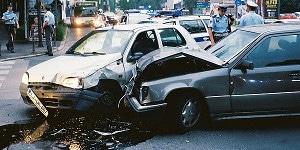 What Types of Automobile Cases Do You Handle?
It takes courtroom skill, work ethic, and strong negotiating skills for a car accident lawyer to be effective.  Any top rated accident attorney has all three.  Attorney Roger Priest has been negotiating and and litigating in the courtroom his entire career and has worked hard to hone his craft through stations as a prosecutor, public defender, criminal and civil litigator.  Call today and schedule an appointment with an honest car injury lawyer who will put your interests first and make sure you are comfortable every step of the way.  Unsure?  Check out our personal injury lawyer ratings.  We focus on happy clients and the rest falls into place.  We are happy to schedule a free consultation in our convenient downtown Vancouver WA office.  If you are too injured to travel, Roger Priest will come to you.  Injury law is complicated, so it pays to have a personal injury car accident attorney who listens to his clients and always takes time to answer questions and take calls.  You will get just that with Roger Priest.  It costs nothing to consult with us about your case.  We also work on a contingency fee basis, so we don't get paid unless we can get you paid.  If you've suffered a car crash, don't delay.  Get personal injury claims advice from an attorney as early as you can.  The decisions you make early in your case can have a serious implications on your ultimate compensation.
What Types of Automobile Cases Do You Handle?
VanWa Legal PLLC can handle a variety of different automobile accident injury cases.  In fact, many people aren't even aware that different types of accidents are handled differently.  Certain accidents have different kinds of injuries.  Certain accidents require different types of insurance.  We handle a variety of different motor vehicle injury cases, including:
Accidents Involving Semi-Trucks
Speeding Accidents
Accidents Involving DUI
Intersection Accidents
Accidents Involving Passing
Poor Highway Design Accidents
Accidents Involving Faulty Equipment
Multiple Party Accidents
No two cases are the same, so it often pays to understand your particular case and how the strategy might be different.  Call an experienced Vancouver WA personal injury lawyer today to see how we can help with your particular case.  We offer a free consultation so you have nothing to lose and so much to learn.  We can help you recover your well-being.
Speak With A Lawyer Now.
Free Consultation Available!
We aim to provide unparalleled service, and love to hear back from current and former clients. Check out our business profiles below and feel free to leave a review if you liked working with us. If you ever have questions or concerns about your case or our service, please give us a call. We aim to make sure our clients get the best information and walk away from our legal business with the utmost confidence. No question or concern is too small to call.

I earn my living by earning the trust and respect of my clients. As a prospective client, I hope to show you this first-hand.
Open Hours Mon-Fri, 8am to 5pm