Slip and Fall Cases Vancouver WA
Slip and fall cases are often the hardest personal injury cases to understand.  For instance, in a personal injury car accident claims, car insurance is there to protect you if you are injured.  It is less familiar a concept to consider suing someone else (and their property insurance) if you injure yourself on their property.  Slip and fall cases are only one type of premises liability case.  You don't have to fall for the property owner to be liable.  Inadequate property maintenance can cause a variety of injuries.  Perhaps the premises is in a defective condition.  Perhaps a public business's lack of appropriate security led to your injury.  Perhaps you were injured on a faulty elevator, escalator or stairwell.  Fires, dog bites, swimming pools, and storage of junk can all potentially lead to serious injuries that could have been easily avoided.  We often call these "slip and fall cases", but slip and fall injury cases come in many varieties.  In any circumstances where a property owner failed to keep their property safe for others, there is a possibility of a slip and fall settlement.
Contact Us Now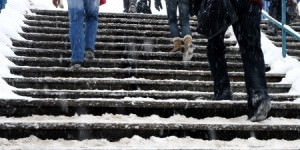 Attorney Roger Priest is happy to meet and discuss your potential case without obligation or pressure.  Even if you are not sure whether the property owner is at fault, it might pay to take time to talk to a slip and fall injury attorney.  We offer free consultations and take cases on contingency, so you don't need a lot of money to get started.  If you've even wondered whether it might be worth your time to talk to a premises liability lawyer, you owe it to yourself to pick up the phone and call attorney Roger Priest today.
The best personal injury lawyers are creative and will work through the facts of your case with you.  They will investigate the scene and conditions.  They will review local laws and safety code requirements.  They will interview witnesses and talk to experts all to help build help decide whether you have a good slip and fall lawsuit on your hands.
Speak With A Lawyer Now.
Free Consultation Available!
We aim to provide unparalleled service, and love to hear back from current and former clients. Check out our business profiles below and feel free to leave a review if you liked working with us. If you ever have questions or concerns about your case or our service, please give us a call. We aim to make sure our clients get the best information and walk away from our legal business with the utmost confidence. No question or concern is too small to call.

I earn my living by earning the trust and respect of my clients. As a prospective client, I hope to show you this first-hand.
Open Hours Mon-Fri, 8am to 5pm