March 17, 2020
Business Update To Coronavirus (COVID-19)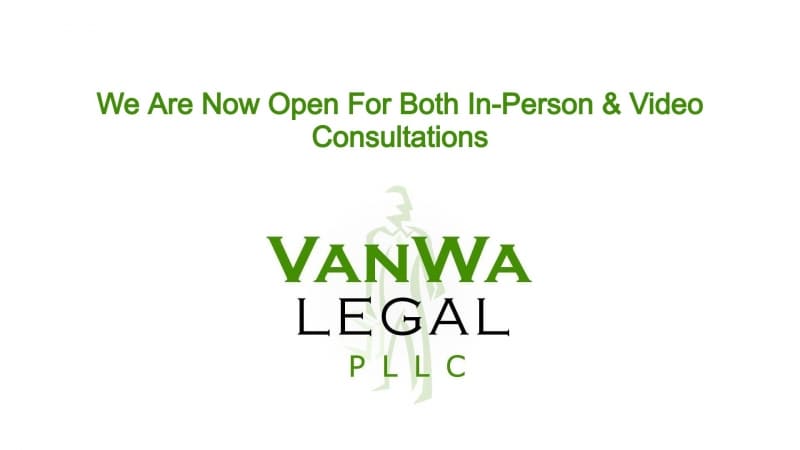 VanWa Legal's Update To Coronavirus
Updated June 1st, 2020
Dear Clients, Visitors, Family & Friends,
We are excited to announce that we are now re-opening our physical offices while implementing safety precautions to keep our clients and staff healthy. To avoid any level of risk, clients may still use our fully secure and encrypted videoconferencing to meet with us instead of having to come in person. 
We are also monitoring the decisions of state and local officials as to how they will be handling the reopening of the courthouse. If you are a client and have a pending court case, be sure to contact us before you attempt to go to the courthouse for any reason.
To keep our clients and staff safe, we have implemented these protocols:
All clients will be required to wear a mask upon entering the building.
If for any reason you feel sick, please contact the office to reschedule your appointment or book a fully secure video conference instead.
Client pens will be sanitized prior to each use.
All high-traffic areas will be sanitized regularly within the office for the safety of our staff and clients.
All staff and clients will be opposite of each other in conference rooms at a safe distance.
Staff will wipe down door handles as clients leave.
Updated March 16th, 2020
Dear Customers, Visitors, Family & Friends
In order to help battle the spread of the Coronavirus, our office is changing all face to face client meetings to phone calls and/or virtual meetings.
We will update this policy as more information is made available.
Our office is still open during this time, we are still working on our existing client matters and available for new client matters, we are merely trying to avoid face to face interaction as much as possible to be in compliance with recommendations from the CDC.
Thank you for your understanding. Please call, text, or email us with any questions or concerns.
When it comes to our physical offices, though we are taking extreme precautions to mitigate any risks of the pandemic caused by COVID-19 for our customers and staff, we have still received many questions and wished to proactively address how we are responding:
As of this writing, we are still open for business but we are moving all in-person consultations and meetings to Skype or phone calls as noted above.
When it comes to our offices, we have implemented the CDC guidelines of 'social distancing' and zero-touch in-person meetings.
Business personnel have been busy with extra cleanings of the office and other high-touch areas.
We will immediately implement any new CDC guidelines as this pandemic unfolds.
There are simple things the CDC recommends you do to help keep yourself and others healthy if requested to visit our location for any reason:
Wash your hands often with soap and water for at least 20 seconds, especially after blowing your nose, coughing, or sneezing; going to the bathroom; and before eating or preparing food.
Avoid touching your eyes, nose, and mouth with unwashed hands.
Stay home when you are sick.
Cover your cough or sneeze with a tissue, then throw the tissue in the trash.
We will continue to monitor the evolving COVID-19 situation and make every attempt to keep you informed. Emergency notifications to staff and patients will be conducted through our emergency communication channels including text notifications, telephone calls, and communicated directly to customers.
For updated information on this rapidly changing situation, please visit the CDC website here: http://bit.ly/39TQIyg
VanWa Legal
Speak With A Lawyer Now.
Free Consultation Available!
We aim to provide unparalleled service, and love to hear back from current and former clients. Check out our business profiles below and feel free to leave a review if you liked working with us. If you ever have questions or concerns about your case or our service, please give us a call. We aim to make sure our clients get the best information and walk away from our legal business with the utmost confidence. No question or concern is too small to call.

I earn my living by earning the trust and respect of my clients. As a prospective client, I hope to show you this first-hand.
Open Hours Mon-Fri, 8am to 5pm