September 27, 2023
Why You Need A Criminal Defense Lawyer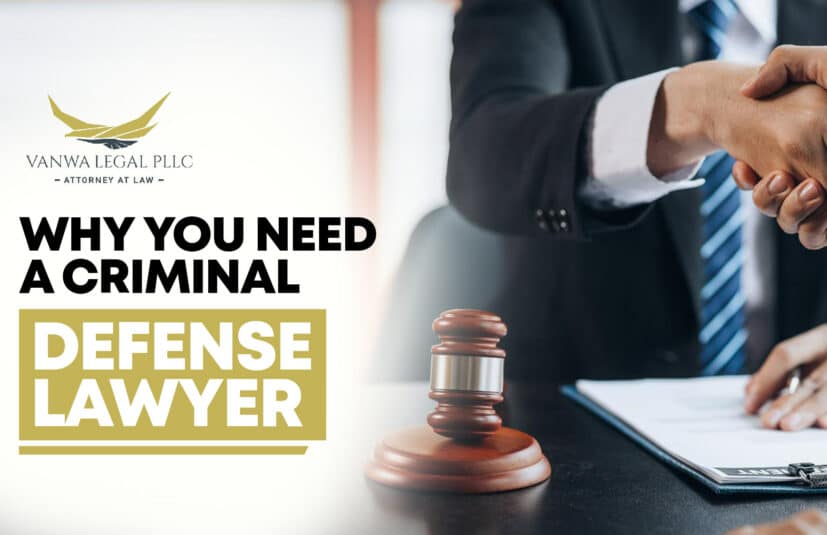 Being charged with a crime such as assault, robbery or a DUI can lead to overwhelming consequences. Life after an arrest is uncertain and stressful. Criminal charges may come with severe penalties including jail time and the loss of your current and future employment prospects.
If you are convicted, the charge might become a permanent criminal record. Hiring a criminal defense lawyer is one of the best decisions that you can make. Continue reading to understand why hiring a Vancouver Washington criminal defense lawyer to represent you is in your best interest.
How a Vancouver Criminal Defense Lawyer Can Help
A criminal defense lawyer handles various types of legal cases such as:
• DUIs
• Burglary
A good lawyer will explain the facts of the prosecution's case and your rights throughout the criminal process. Therefore, it is best to hire a criminal defense lawyer specializing in Washington state's laws that impact your case.
Generally, you want someone who can help you understand:
• The nature of your charges
• Legal issues impacting your charges
• Potential defenses
• Potential plea bargains
• What to expect during a trial and after a conviction
Some people decide to handle certain legal issues alone. However, legal advice from a qualified criminal defense lawyer after an arrest may help you secure the best possible outcome for your future.

What to Consider When Looking for a
Criminal Defense Lawyer
Hiring a lawyer with the necessary knowledge and skills to defend your case is crucial. You need someone who understands what is at stake and is dedicated to winning for you.
Being familiar with polygraphs, police interviews and crime scenes are just the beginning. There are other things to consider for the best courtroom help.
Availability to Answer Your Questions
During your case, you will have plenty of questions and will need reassurance that a lawyer can provide the answers. For this reason, look for a criminal defense lawyer who is available any time of the day. Doing so will go a long way toward easing your worries.
Clear guidance means explaining the process related to your case. Of course, immediately taking every call or replying to an email is not possible. However, a lawyer who responds within a reasonable time helps to build your confidence that they are interested in what matters to you. 
Legal Defense Strategy
Since not all criminal cases are the same, uniformly applying one legal strategy is not a winnable approach. That is why having a criminal defense lawyer who develops a unique defense for you matters.
Look for a lawyer who takes a well-thought-out approach to fighting the charges you face. A strategy should be tailored to your story and situation. Additionally, your lawyer should always communicate to you their plan.
Good Rapport
Your level of comfort with someone fighting to secure your freedom is crucial. You are dealing with an unfamiliar and difficult situation where your freedom is at stake. The criminal defense lawyer standing by your side should ensure that your best interests guide every decision.
Scheduling a consultation is one way to get to know potential criminal defense lawyers. During your appointment, assess how you feel about the conversation. Thoroughly and honestly answering your questions can help your confidence in their counsel.
Choosing the right lawyer is personal and should be someone who makes you feel comfortable.
Advantages of Having a Vancouver Criminal Defense Lawyer
A person who cannot choose a criminal defense lawyer is usually appointed one from the Public Defense Office. Generally, confidence in an assigned lawyer is not the same as being able to choose your own legal representation.
As a result, choosing a criminal defense lawyer to represent you has many advantages. For starters, you diligently have selected a lawyer that you can trust. The following lists five more advantages when you are facing criminal charges.
1. In-depth Criminal Law Knowledge on Your Side
A defense lawyer's understanding of the inner workings of the criminal justice system is an important reason to hire one. The confusing nature of the legal system coupled with the stress you are enduring requires objective, intricate knowledge. 
Based on the specifics of your case, a good defense lawyer will use their extensive knowledge to demystify the process. They will use this knowledge to your advantage and exploit loopholes or weaknesses in the prosecution's case against you. 
Furthermore, a lawyer on your side will know how to handle an antagonistic prosecutor or hard-line judge.
2. Protection for Your Legal Rights
Even though the criminal justice system has charged you with a crime, you still have legal rights that deserve to be protected. If some of those rights were not explained to you, a defense lawyer will ensure your rights, such as remaining silent, are upheld.
Upholding your rights throughout all legal proceedings continues with a lawyer focused on providing the best defense. Generally, this will include reminding you of your right against self-incrimination. They will help you prepare for answering questions during cross-examination. 
3. Can Use Professional Relationships to Your Benefit
Years of working in the criminal legal field usually mean defense lawyers have developed relationships with prosecutors. Although some might question positive relationships with legal adversaries, both sides understand the importance of a good experience.
Familiarity could translate into pivotal outcomes during your case. Your criminal defense lawyer can use their relationships to negotiate a bond that you can afford.

4. Can Negotiate a Plea Bargain
In addition to using good relationships with prosecutors for a favorable bond, your lawyer may also negotiate a better plea deal if necessary. Depending on the issues of the case, a plea deal might be better than going to trial.
Understand that a plea deal typically requires that you plead guilty to the criminal charges against you. However, you will also receive a reduced sentence. In some situations, you may even be granted lesser charges.
Both approaches could save a significant amount of time and financial resources versus going through a trial proceeding. A skilled criminal defense lawyer will negotiate a deal that is fair for you.
5. Protection for Your Future
Every decision and strategy a dedicated criminal defense lawyer makes is a fight for your future. If lesser penalties or reduced charges are not favorable options, your lawyer may try to get your case dismissed. 
Lesser penalties can keep you from spending time in jail and losing your job. Reduced charges can also help you avoid jeopardizing your career by keeping a felony conviction off of your record.
Even better, a dismissed case helps you avoid the negative impact a criminal conviction can have on your family and your future.
Don't Leave Your Fate and Freedom to Chance
Facing serious legal challenges is daunting. Whether you acknowledge guilt or contest the accusation, you need a criminal defense lawyer. Choosing the right one is instrumental in the outcome of your ordeal.
An experienced lawyer has the knowledge to safeguard your legal rights. They can negotiate a plea deal, uncover evidence and leverage gaps in the prosecution's case. All this can help secure the best outcome for you.
Speak With A Lawyer Now.
Free Consultation Available!
We aim to provide unparalleled service, and love to hear back from current and former clients. Check out our business profiles below and feel free to leave a review if you liked working with us. If you ever have questions or concerns about your case or our service, please give us a call. We aim to make sure our clients get the best information and walk away from our legal business with the utmost confidence. No question or concern is too small to call.

I earn my living by earning the trust and respect of my clients. As a prospective client, I hope to show you this first-hand.
Open Hours Mon-Fri, 8am to 5pm